ASEAN looks north for digital revamp
Share - WeChat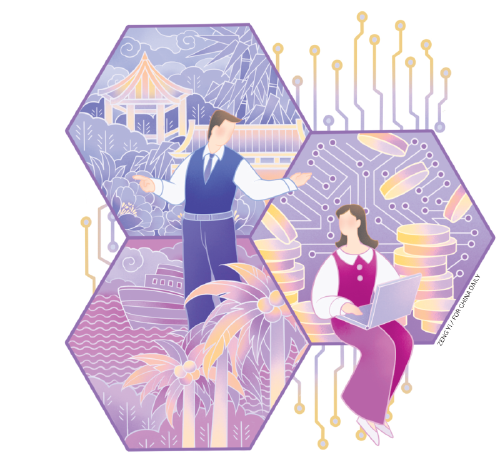 Region's tech ambitions boosted by cooperation with China, experts say
Closer cooperation between China and ASEAN will benefit the region's digital transformation as well as its economic recovery from the pandemic, experts say.
Henry Chan, a visiting senior research fellow at the Cambodian Institute for Cooperation and Peace, said China's offer to support the digital transformation of countries in the Association of Southeast Asian Nations is timely and meaningful in the face of the coronavirus.
Chinese President Xi Jinping, reaffirming China's support for ASEAN in the COVID-19 battle and the region's efforts to revive economies, expressed on Nov 22 his wish for closer cooperation with the bloc through technology and people-to-people exchanges.
This includes supporting the establishment of a China-ASEAN Knowledge Network for Development, launching the China-ASEAN Science, Technology and Innovation Enhancing Program, providing 1,000 items of advanced technology to ASEAN, and supporting a program for 300 young scientists from the region to visit China for exchanges in the next five years.
Xi, when expressing his support, was speaking via video link at a special summit to commemorate the 30th anniversary of China-ASEAN dialogue relations.
He made a call for the two sides to "build a prosperous home together", among other proposals. The summit saw China and ASEAN upgrade their ties to a comprehensive strategic partnership. He also proposed a China-ASEAN Digital Governance Dialogue to deepen the innovative application of digital technology.
Chan said ASEAN countries need to promote technological advancement, but many of them lack the crucial digital infrastructure including broadband connectivity, diverse digital content and the talent to support such development. "Digital transformation is already becoming a necessity for any country working on post-COVID economic recovery," he said.
Chin Yew Sin, an adviser for the Asia-Pacific region at the Global One Belt One Road Association, said China has been supporting Southeast Asian nations with physical infrastructure projects through the Belt and Road Initiative. The digital side of the BRI is a practical issue in line with the bloc's master plan on ASEAN Connectivity 2025, Chin said.
Market size
"ASEAN countries need these digital technologies from China to help them develop faster," said Chin. He said it would be beneficial for these countries to work closely with China on the implementation of the bloc's ASEAN Digital Masterplan 2025 due to the size of the Chinese market and the technologies offered.
China has become a major force driving the growth of global innovation. In 2020, the country invested 2.4 trillion yuan ($372 billion) in research and development, up 10.2 percent year-on-year, according to the National Bureau of Statistics. China's R&D spending ranked second globally, trailing only the United States.
In 2020, China was the biggest source of international patents filing for the second consecutive year, extending its lead over the US, according to the World Intellectual Property Organization.
New opportunities abound with the Regional Comprehensive Economic Partnership entering into force on Jan 1.
Chan said that as the trade pact also provides a digital trade platform for intellectual property and e-commerce, how the RCEP manages digital governance, cross-border data exchange and digital tax will provide a valuable experience for the rest of the world.
Signed by ASEAN and its five major trading partners including China, the RCEP is the world's largest free-trade pact, covering nearly one-third of its population and about 30 percent of its GDP. The agreement will progressively phase out 90 percent of tariffs on goods traded between the participating countries.
Expecting closer China-ASEAN cooperation with the upgraded ties, Chin said not only will the collaboration with China allow ASEAN countries to develop faster and be less dependent on other countries it will also benefit China once ASEAN becomes more technologically developed.
"China is sincere with its help," said Chin.
Chevy Beh, founder of Malaysian health-technology company Book-Doc, said he believes the technology sector will grow stronger and can better address people's needs with government support as it allows deeper integration through partnerships.
BookDoc, which has seen its revenue grow fivefold during the pandemic, has partnered with WeDoctor, a digital medical service platform run by Chinese internet company Tencent.