Ink impressions
Share - WeChat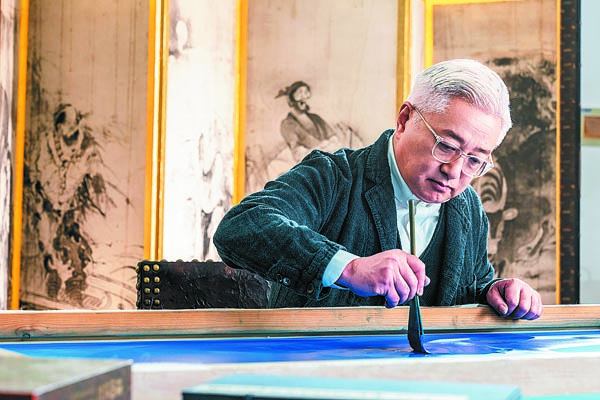 Artist Xu Lei blends classical Chinese and Western techniques into his dreamlike works, Lin Qi reports.
Ink artist Xu Lei says his ongoing solo exhibition, Xing Hui (A Flash of Inspiration), at the Nanchizi Museum is one of the best shows on his paintings and methods of creation ever.
The museum, tucked in a quiet alley near the Forbidden City in central Beijing, occupies a small courtyard built in the style of classical Chinese gardens in Suzhou and Wuxi cities in Jiangsu province.
The vintage residential gardens, decorated with pavilions, hollowed rocks, ponds, plants and artworks, allowed people to live in privacy and promote high culture, as well as reflect ancient Chinese views on interactions between human and the surroundings, nature and the universe.
One can feel similar artistic refinement and philosophical and cultural views while going through the ink-color paintings at Xu's exhibition, which runs through Feb 28.
Xu views the show as a chance for onlookers "to get a big picture from the details, to gain significance from commonplace", and as a journey to take people to the past, bring them back to the present in a world suffering from the pandemic and also look to the future.
Xu rose to fame with his works on paper, in which he pays delicate attention to the figurative gongbi style, a long-standing technique in classical Chinese painting, to present accurate, meticulous details. He draws inspiration from the art of the Song (960-1279) and Ming (1368-1644) dynasties and retains the intellectual grace and philosophical beauty, as well as a sentiment of mystery and seclusion.
Xu has given the style of painting a modern context by introducing elements from Western history and art, and modern cultures. By doing so, he renders in his work a symbolic, surreal and conceptual touch that has made him a leading Chinese contemporary artist.
"Xu is a representative and inspirational artist in the realm of modern Chinese painting," says Yan Hong, deputy director of the Nanchizi Museum. "His distinctive approach to gongbi paintings has blended elements of the East and the West, the tradition and modern.
"His well-recognized works are often characterized with an atmosphere of calmness and self-distancing, showing a lineage from the cultural temperament of intellectuals in ancient China."