Nation deserves a thumbs-up for boosting energy security
Share - WeChat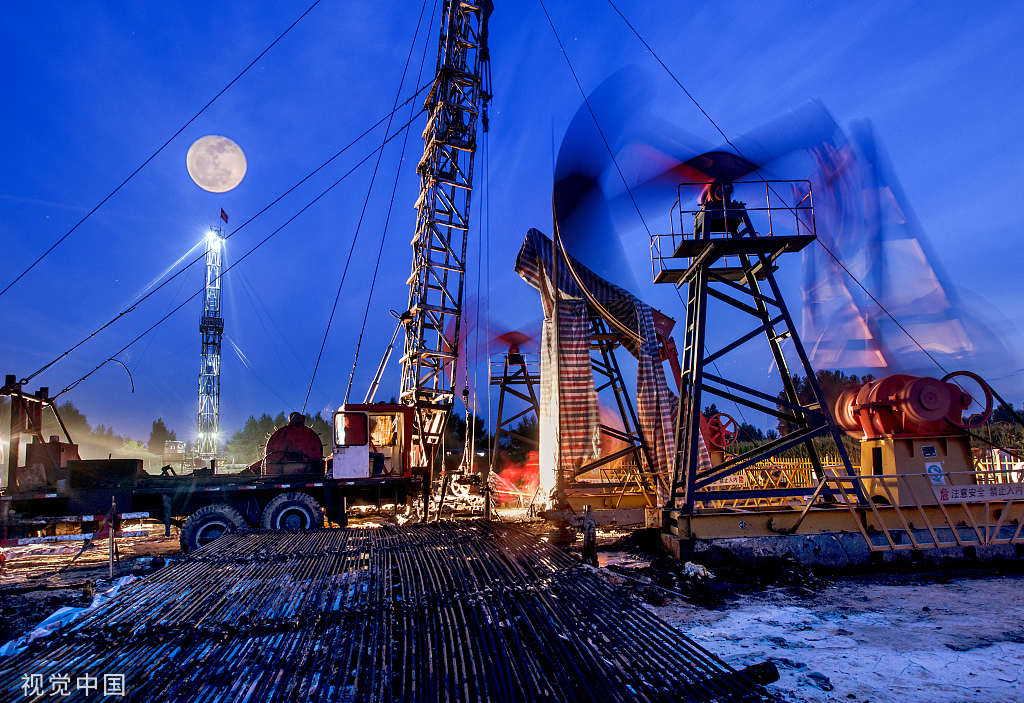 Editor's Note: Energy drives economic development and helps improve people's lives, but extracting fossil fuels and generating electricity also cause environmental pollution. So China has pledged to phase out coal-fired power plants while increasing the use of clean energy. In the fifth of a series of commentaries, a veteran journalist with China Daily focuses on the country's energy security.
Day and night, hundreds of oil tankers carry the precious black liquid from the Middle East to China to fuel the world's second-largest economy. For many years, China has been the world's biggest oil importer, importing on average 10 million barrels of oil a day.
In 2020, China imported 542 million tons of crude oil, up 7.3 percent year-on-year. The fact that China consumes about 700 million tons of oil a year, and imports account for over 70 percent of that, drew the attention of the authorities to energy security, especially because it has the bitter experience of facing sanctions from advanced countries since the middle of the 20th century.
Immediately after the founding of the People's Republic in 1949, the United States and some other Western countries imposed sanctions on New China for political reasons. So China had to rely on oil imports from the Soviet Union. And when Sino-Soviet relations soured in the early 1960s, oil supply from the Soviet Union also stopped, leaving China in a helpless situation.
I still remember seeing buses and trucks running on coal gas, supplied by a big rubber bag attached to the vehicles. Apart from a few insignificant oil fields in some parts of Gansu province and the Xinjiang Uygur autonomous region, China, many at that time believed, had poor oil reserves.
Later, thanks to discoveries by geologists, China began exploring new oil fields, including the famous Daqing oilfield. As a result, by the end of the 1960s, China announced it had become self-reliant in oil even though the annual domestic supply remained around 100 million tons for many years. Low as it was, the supply met the national demand till the launch of reform and opening-up in the late 1970s.
Although the domestic oil output reached 200 million tons last year, the demand has increased at a much faster rate, prompting China to purchase oil from the international markets. The unstable situation in the oil-rich Middle East countries, the rampant piracy off Somalia's coast and certain nations' threat to block the vital sea routes forced China to pay greater attention to energy security.
As a result, the authorities have taken measures to secure the country's oil supply, envoys have visited Middle East countries to mediate peace, PLA Navy warships are patrolling the Indian Ocean to contain piracy, huge oil containers have been built to transport higher volumes of oil in order to reduce transport costs and boost the country's oil reserve, domestic oil fields have been told to stabilize, if not increase, their output, and new oil fields explored.
To reduce potential risks that come with a small group of suppliers, China is looking for new suppliers and trying to diversify its sources of supply. Also, four cross-border oil and gas pipelines have been built between China and Russia, China and Central Asia, and China and Myanmar. The pipelines, each of which could provide more than 10 percent of China's oil imports, are not only strategically crucial for China's energy security but also beneficiary for the supplier countries.
China has also established close cooperation with more than 100 countries and regions in energy trade and investment. And partner countries seek to work with Chinese enterprises because of the latter's work efficiency and high standards.
Chinese people are good at working out plans, both short-term and long-term. For its energy plan, China has adopted a strategy marked by four types of reforms: reform to improve the energy consumption structure; reform to diversify the energy supply structure; reform to improve energy technology to upgrade the industry; and reform to optimize the energy system to boost the sector.
The reforms, the plan emphasizes, will be based on cooperation with other countries, in order to realize energy security in an open environment. Which shows the central government is committed to strengthening energy security, which deserves a thumbs-up.
kangbing@chinadaily.com.cn
The author is former deputy editor-in-chief of China Daily.
Most Viewed in 24 Hours
China Views