State Council to oversee probe into hotel collapse in Jiangsu
Share - WeChat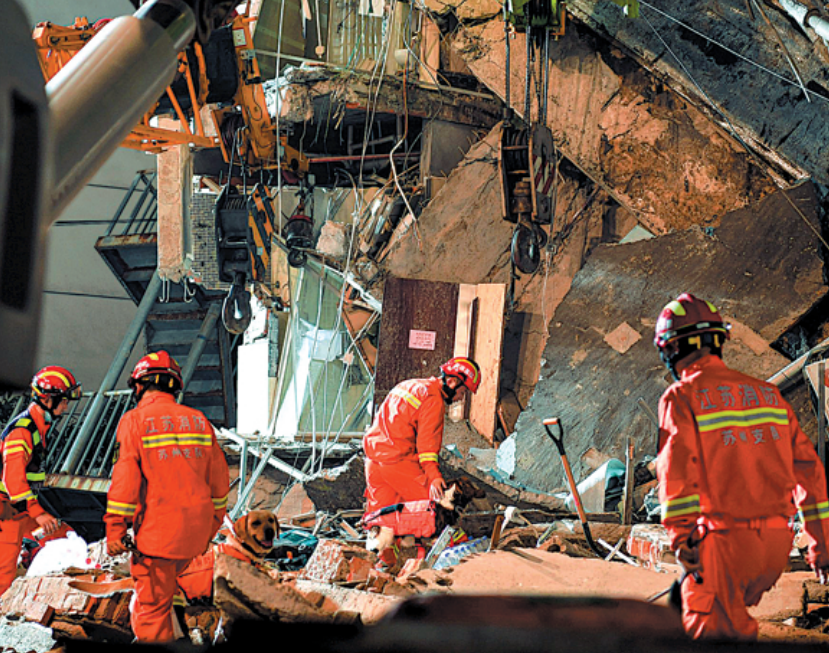 The Work Safety Committee of China's State Council will supervise the investigation into Monday's building collapse in East China's Jiangsu province, the Ministry of Emergency Management said on Wednesday.
The hotel building collapse in Suzhou killed 17 people, the local government announced via WeChat.
Rescue work was finished by 9 am, as all victims buried in the debris had been recovered. Five people were receiving treatment at the city's No 9 People's Hospital. The sole unharmed person was sent home on Wednesday morning.
The hotel named Siji Kaiyuan in Suzhou's Wujiang district, was undergoing structural renovations when it collapsed.
The work — which had not been approved by the city government — led to the collapse, Xinhua News Agency reported, citing a preliminary investigation by the rescue team at the site.
Jiangsu has formed a team to investigate the incident. Police have summoned and detained some of the representatives, operators, engineers, designers and people in charge of the renovations.
Lou Qinjian, Party secretary of Jiangsu, visited injured people at the hospital and arranged rescue work.
Xinhua contributed to this story.