Suning founder steps down after stake sale
Share - WeChat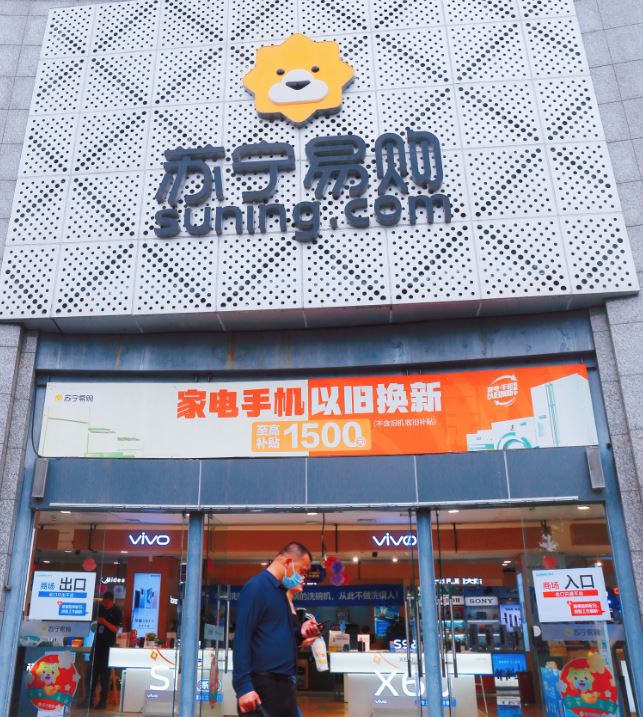 Suning.com's billionaire founder Zhang Jindong has resigned as chairman during a leadership shuffle which put an end to his reign of the debt-ridden e-commerce retailing conglomerate, as its new and more diversified shareholder structure is expected to embark on a brighter future for the company.
Shares of Suning.com reacted on the Shenzhen bourse by jumping 1.3 percent to finish on Tuesday at 6.25 yuan (96 cents), having hit a session peak of 6.44 yuan.
Suning.com received a $1.36 billion acquisition plan from State-owned investors and Alibaba Group last week in an effort to restore its liquidity.
Suning.com agreed to sell a 16.96 percent stake in its listed firm to a fund, namely Jiangsu Xinxin Retail Innovation Fund II, a consortium with some State-owned investors, Alibaba Group and other corporate investors including Huatai Securities, Xiaomi, Haier, Midea and TCL.
Alibaba, which held 19.99 percent share of Suning.com previously, has become the largest shareholder following the transfer of shares. No shareholder though will have a controlling stake.
The new dynamics of the shareholding structure are expected to reflect on its board member structure and decision-making process, said Jason Yu, managing director of Kantar Worldpanel China.
"The new board members will better represent the interests of the new investors which are more diversified," Yu said.
He pointed out that Peter Huang, a veteran in retail and former CEO of leading retailer RT-Mart, will make multidimensional contributions to the development of Suning.com in the future.
Zhang, 58, who built his business empire from a small electronic-appliance store in Nanjing, Jiangsu province, will stay on as honorary chairman and advise on the company's development strategy, a Suning.com filing on Monday said.
Ren Jun, a board member, will become acting temporary chairman. A long-term executive of Suning.com, Sun Weiming also resigned as vice-chairman and board member.
Zhang's son, Zhang Kangyang, was nominated to the board. Zhang oversees the company's international businesses including a football club in Milan and retailing network Laox in Japan.
In a letter to employees at Suning.com, Zhang Jindong said after announcing his resignation: "Retail is a marathon that has no end. Every change and adjustment now is to make a better future for Suning.com."
Suning's annual fiscal report for 2020 showed short-term loans of 23.7 billion yuan, with liabilities reaching 124.6 billion yuan while assets were worth 107.4 billion yuan.
In its first-half forecast on Monday, the retailer estimated its loss will likely be between 2.5 billion yuan and 3.2 billion yuan, up 167 million yuan year-on-year.