UK threatens online platforms over abuse
Share - WeChat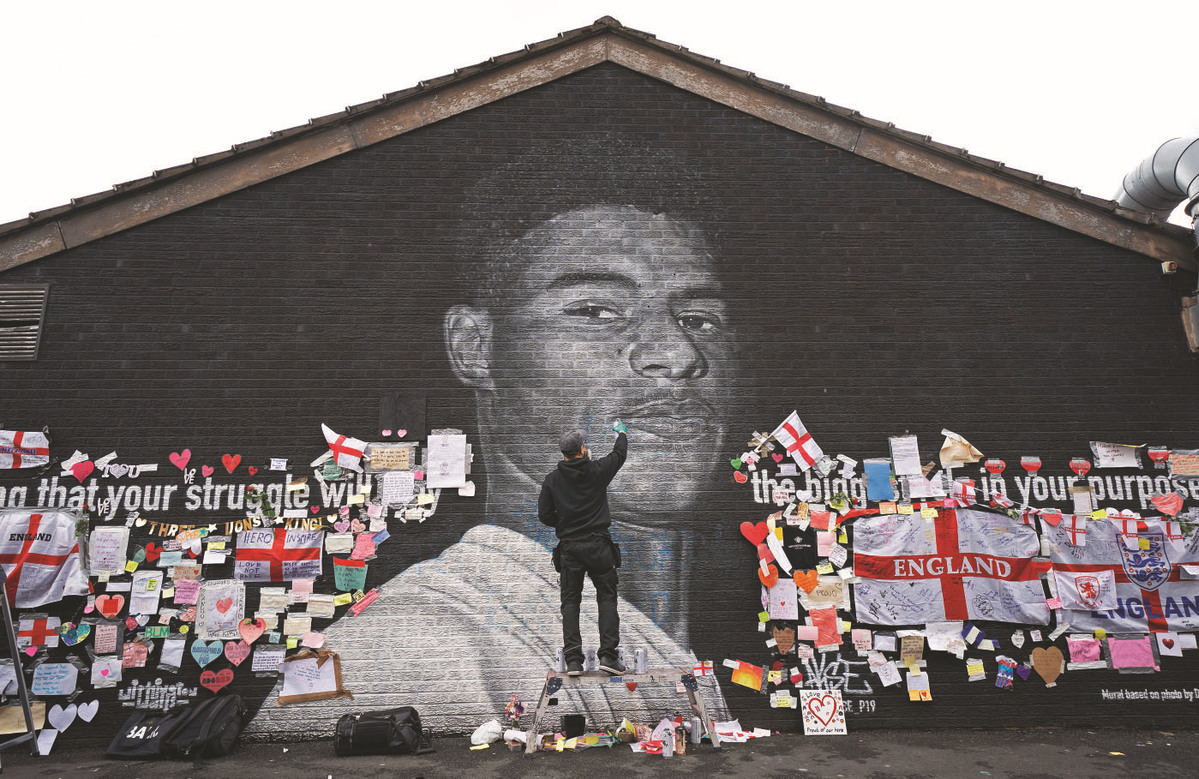 Social media companies told they will be held accountable if they fail to take action
The United Kingdom has threatened social media platforms with sanctions if they continue to allow people to post racist and hateful messages online, the Reuters news agency has reported.
The government called on the companies to take action after a deluge of vile comments appeared online directed toward black players in England's soccer team, which lost in the final of the UEFA European Football Championship on Sunday.
The Times newspaper said the government is now calling on the companies to come up with long-term solutions to the problem of hateful abuse appearing online. It also reportedly wants immediate action, in the form of lists of names from the platforms of individuals who hurled abuse at the players.
Stephen Barclay, a UK lawmaker who is the government's chief secretary to the Treasury, told Sky News: "We need to ensure that those platforms take action, and if they don't, the government will take action against them."
Senior British politicians, who criticized both the platforms that carried the hurtful messages and the people who posted them, were themselves criticized on Monday though, for doing too little too late and for, effectively, fanning the flames of racism.
Tyrone Mings, another black player who was part of the England squad for the tournament, which is also known as the Euros, tweeted that Home Secretary Priti Patel was insincere when she said she was "disgusted" by the racist insults.
Mings said Patel had previously said the team's decision to kneel before the start of games, to show solidarity with the Black Lives Matter movement, was merely "gesture politics", something that he said emboldened the racists. "You don't get to stoke the fire at the beginning of the tournament by labeling our anti-racism message as 'Gesture Politics' and then pretend to be disgusted when the very thing we're campaigning against, happens," he wrote.
Patel responded in the House of Commons by saying the government abhors the racist messages and will make sure online platforms eliminate such behavior. "We have been clear that if they do not stamp this out, we will take action against them in the Online Safety Bill," she said.
Prime Minister Boris Johnson also criticized those who racially abused players this week, saying they should "crawl back under the rock from which (they) emerged", but Keir Starmer, the leader of the opposition Labour Party, said Johnson should also have taken a harder line against those who booed the players for taking a knee earlier in the Euros.
"The prime minister failed to call that out and the actions and inactions of leaders have consequences, so I'm afraid the prime minister's words… ring hollow," the BBC quoted Starmer as saying.
The Metropolitan Police, meanwhile, which is the force responsible for policing in Greater London, which is where the final was played, said it is investigating the abuse with a view to potentially charging people with hate crimes.