Tianjin's green barrier helps tackle urban heat island
Share - WeChat
Tianjin's 736-square-kilometer green barrier has positive ecological effects and helps the city curb the urban heat island effect.
Development of the green barrier began in 2018, and it is covered with rice fields, lakes, grassland and forested areas. It is the top ecological protection undertaking in the city.
It has helped reduce temperatures by 0.2-0.4 degrees Celsius in the city's central area and increased the humidity level by about 2 percent.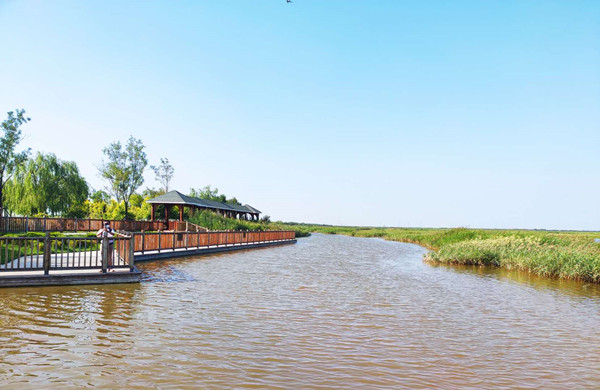 "In the three years since the construction of the green ecological barrier area, ecological protection and restoration have been vigorously implemented, and the cooling effect and humidification have increased significantly," said Wu Zhenling, deputy head of the Tianjin Meteorological Service. "From 1850 to 2019, the global average temperature increased by 1.1 degrees Celsius. So, the temperature drop of 0.2-0.4 degrees Celsius in the city is significant. The barrier area effectively improves the microclimate."
The green barrier was created by renovating areas, building parks and transforming industrial sites and illegal housing into natural preservation zones.
By 2021, the proportion of lakes and green land in the barrier area will reach 65 percent.