Ambitious plan to boost rural consumption
Share - WeChat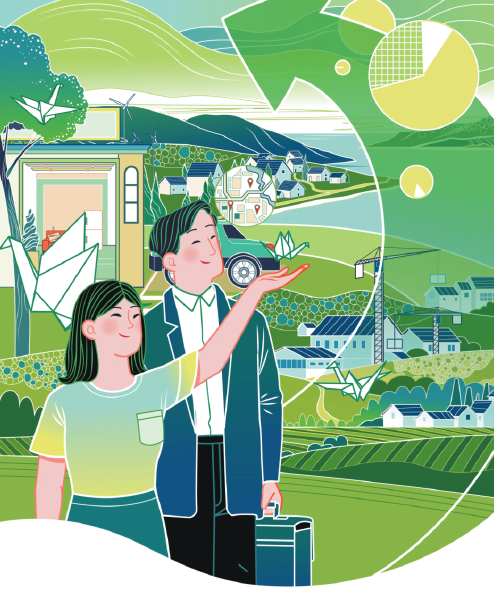 Consolidation of logistics, building distribution centers, bolstering e-commerce all key aspects of joint policy document
As China seeks to narrow the urban-rural consumption gap, the latest move to bolster county-level markets and stimulate rural consumption will introduce more quality goods and services, advancing supply-side structural reform.
Consumption remains a pillar of China's long-term economic growth. As rapid growth continues in rural areas, 17 central government departments, including the Ministry of Commerce, the Ministry of Agriculture and Rural Affairs and the State Post Bureau, released a joint policy document in mid-June detailing improvements to rural logistics and infrastructure.
Under the new policy, the government will deploy more resources in building a modern rural circulation system during the 14th Five-Year Plan (2021-25), upgrading informatization services and related infrastructure and pushing the standardization of commercial goods.
Rural China's potential derives from its huge population, rising incomes, proliferation of e-commerce platforms and new demands, said Liu Decheng, director general of the Ministry of Commerce's Department of Circulation Development.
Faced with the pandemic and an increasingly complex global economy, boosting rural consumption is a hot topic for government and domestic and global companies, said Ren Xingzhou, former director general of the Institute for Market Economy at the Development Research Center of the State Council, China's Cabinet.
"It's a practical way to boost consumption and strengthen the industrial chain, facilitating China's dual-circulation development," she said.
Proposed by the central leadership, dual-circulation has emerged as an overriding economic theme. Innovation, opening-up and boosting domestic demand are priorities under the 14th Five-Year Plan, which views domestic circulation as an economic mainstay, and domestic and international circulation as mutually reinforcing.
Because rural residents are less burdened by mortgages, rent, and loans than their urban counterparts, their relative consumer confidence is higher, said Ma Yu, a researcher at the Chinese Academy of International Trade and Economic Cooperation.
The individual GDP of China's top 38 counties reached 100 billion yuan ($15.64 billion) last year, with six surpassing 200 billion yuan. The GDP of Kunshan and Jiangyin counties exceeded 400 billion yuan, according to Chinese financial media outlet, Yicai, and last year, per capita disposable incomes in Yiwu city, China's largest small commodities distribution center, reached a record 71,210 yuan.
Demand in rural areas has diversified. Expenditure on leisure, entertainment, healthcare and medical services now make up growing proportions of overall annual consumption, said Zhang Yongjun, a researcher at the China Center for International Economic Exchanges.
Efforts to promote dual-circulation through openness will not only stimulate rural consumption, but will also encourage foreign companies to introduce more goods and services to these areas, he said.
Per capita rural disposable incomes surged 6.9 percent last year to reach 17,131 yuan, according to the National Bureau of Statistics.
Under the new policy, the government will focus on building commercial service and logistics centers to unleash consumption potential.
Additionally, it will help transform family-run shops into chain stores at the village level.
Vice-Minister of Commerce, Wang Bingnan, said that the country will further develop express delivery services and the distribution of agricultural products, depending on local circumstances.
"There will be no unnecessary low-level construction, and no rural businesses will engage in disorderly or unfair competition," he added.
Rural retail sales totaled 5.3 trillion yuan last year, up 26.1 percent since 2015, and official data showed that rural consumption has been growing faster than urban consumption for the last eight years.
In addition to integrating express delivery services and strengthening promotion of agricultural products, the government will help transform and upgrade rural outlets, enhance the integration of daily services with businesses and expand the availability of high-quality goods and services, Wang said.
New commercial centers will be developed and large-scale enterprises will be encouraged to set up in towns.
The document highlighted the importance of modern logistics and the need to explore modern information technologies like big data, cloud services and blockchain to ensure integrated development.
Impoverished areas will receive infrastructure support, and deploy e-commerce to expand sales channels. Areas with mature infrastructure will be incentivized to industrialize agricultural e-commerce to increase farmers' incomes and bolster spending.
Li Guoxiang, a researcher at the Chinese Academy of Social Sciences' Rural Development Institute, said that online retailing has transformed rural supply chains and accelerated consumption.
As infrastructure improves, and big e-commerce platforms target rural customers, he said more high-quality goods become available.
The central government has pressed ahead with an initiative to bolster rural e-commerce, with measures to develop logistics, public services and training for farmers.
The new policy complements a June 1 government notice about a pilot county-level e-commerce program, supported by a centrally-financed fund.
Issued by central government branches, including the Ministry of Finance, the Ministry of Commerce and the State Council Leading Group Office of Poverty Alleviation and Development, the notice said authorities should prioritize efforts to develop a better business environment for rural e-commerce to support poverty reduction and rural vitalization.
State Post Bureau spokesman, Hou Yanbo, said that the government will encourage service providers to cooperate on improving efficiency and lowering costs.
The bureau will continue to promote the construction of rural e-commerce distribution stations, 2,084 of which had been built in villages and towns across China by the end of May.
zhongnan@chinadaily.com.cn